What to Know
MMA fighter Conor McGregor was arrested after an alleged rampage at Barclays Center in April, officials say

McGregor was charged by the NYPD with assault and criminal mischief, MMA fighter Cian Cowley was also charged

The two are said to be involved in plea negotiations and are due back in court in July
Mixed martial arts fighter Conor McGregor is looking for a plea deal in connection with his alleged Barclays Center rampage that led to the cancellation of several fights on one of UFC's biggest cards of the year. 
McGregor, alongside fellow MMA fighter Cian Cowley, 25, of Ireland, appeared briefly before a judge in Brooklyn Criminal Court Thursday morning. Plea negotiations are underway. Both are charged with assault and criminal mischief.
McGregor issued a brief statement after the hearing, saying he regrets the actions that led to the court case and understands the seriousness of the matter.
He and Cowley were last in court in April after allegedly going on a caught-on-camera attack after a UFC 223 press conference. McGregor can be seen tossing a hand truck at another fighter's bus. 
The judge ordered them to stay away from several men they allegedly assaulted in Brooklyn, including fellow fighters Michael Chiesa and Ray Borg.  
Conor McGregor Faces a Judge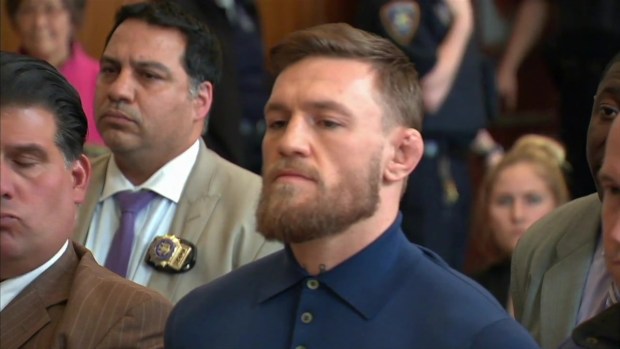 McGregor received a $50,000 bail package that would let the Irish fighter reclaim his passport, provided he checks in with his bail bondsman weekly. His attorney assured the judge he is not a risk, saying, "He's the most visible face on the planet and he has no criminal record… the bail package is completely appropriate."
Cowley got a $25,000 bail package. The two men said nothing as they left court to a packed crowd of reporters, fans and spectators outside and got into a white SUV that whisked them away.
Bail conditions for the men remained the same after the hearing Thursday. They're due back in court next month. 
UFC released a slickly produced video showing the rampage from several camera angles, including from inside the bus. 
McGregor's latest Instagram posted on Wednesday shows him on a tarmac with Cowley with a private jet in the background, presumably the one flying the duo back to the States. 
Conor McGregor Leaves Court
News 4 cameras were at the scene for the first footage of McGregor as he was led from a Brooklyn police precinct that April morning following his arrest. The handcuffed fighting champion said nothing, but held his chin up as police escorted him to a waiting vehicle. 
Handcuffed Conor McGregor Led From NYC Precinct After Arrest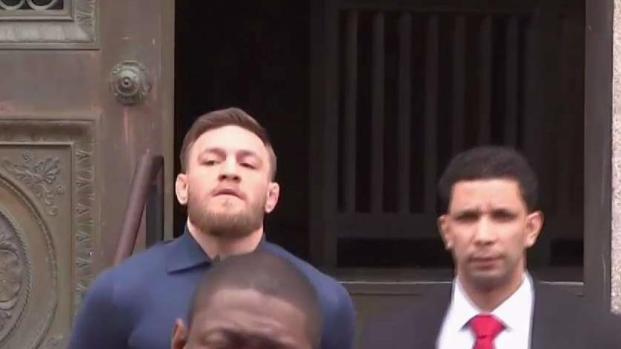 His arrest comes after multiple social media accounts captured video of him acting wildly in a non-public area of the arena. 
Chilling Images Take You Inside Abandoned Maryland Mall
McGregor allegedly continued flailing other items around and ultimately launched something that hit the window of the bus, cracking it and shattering the glass, video taken from inside the bus shows. Chiesa suffered minor injuries.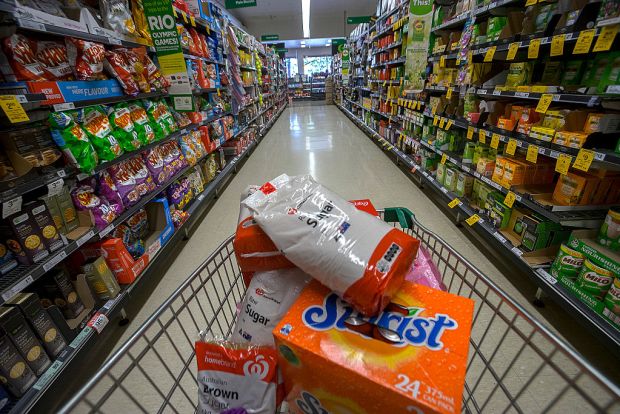 America's Best and Worst Supermarkets Revealed
UFC President Dana White — who previously announced McGregor was being stripped of his UFC lightweight championship — told MMAjunkie in a Facebook interview that McGregor and a crew of about 20 men "stormed" the building after gaining access from media-credentialed people at Barclays and got to the loading dock, where fighters were boarding buses after a press conference for that weekend's pay-per-view card.
Room With a View: See Inside This Proposed Space Hotel
Famous Mug Shots: Nick Gordon Arrested for Violating Bond
In a statement, UFC called the disruption "completely unacceptable."
UFC said Chiesa was pulled from his scheduled bout that weekend after he suffered "several facial cuts." 
The UFC also said Flyweight Ray Borg was also injured and was unable to fight. 
Conor McGregor. Picks up guard rail. Attempts to throw it at bus. ABSOLUTE CHAOS IN NEW YORK. #UFC223 (Via Felice Herrig's IG story) pic.twitter.com/JYQZD7jtKP

— Chamatkar Sandhu (@SandhuMMA) April 5, 2018
Conor McGregor in chaotic brawl prior to #UFC223 media day pic.twitter.com/aK6tEjUdWZ

— MMA Experts (@MMA_Experts) April 5, 2018
Well, Conor McGregor is in Brooklyn for #UFC223. Here's some shaky video of a bunch of people running after him. pic.twitter.com/AhhLDzguQP

— Ryan Gerbosi (@RyanGerbosi) April 5, 2018
Coach Kavanagh must have yelled "Ninja vanish!". Conor McGregor and his Foot Clan escape in a cranked and ready SUV getaway vehicle. (footage by @AdamHillLVRJ) #UFC223pic.twitter.com/zWkgq5nP5m

— Justin Golightly (@SecretMovesMMA) April 5, 2018
McGregor hasn't fought for UFC since November 2016 and was stripped by UFC President Dana White of the 155-pound championship he had never defended. 
McGregor profanely responded on Twitter and wrote, "You'll strip me of nothing."
The events in April undoubtedly seemed to anger White, saying it was a "real bad career move" on McGregor's part. 
McGregor last fought in a boxing match he lost to Floyd Mayweather Jr. last August.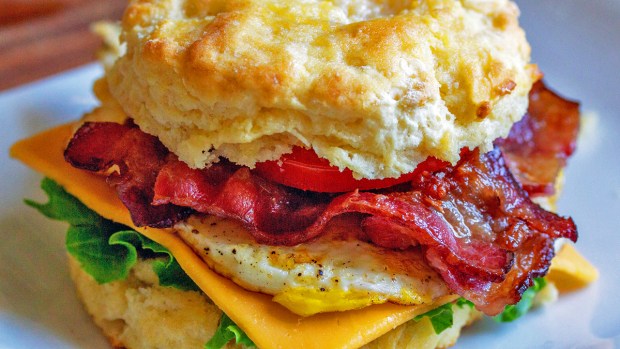 10 NYC Foods to Eat Before You Die, According to Thrillist
The popular Irishman is tight with UFC 223 fighter Artem Lobov, who was involved in a scuffle that same week in a hotel with Khabib Nurmagomedov. The fight between Max Holloway and Nurmagomedov was canceled when Holloway didn't make weight for the main event, a lightweight championship left vacant by McGregor.
Lobov was yanked from that card and banned from the building.
McGregor once held the 145 and 155-pound championships at the same time and boldly stated he wanted an ownership stake in UFC.
But the trash-talking, egocentric has been out of the fight game except for his boxing dalliance with Mayweather that made him wealthy enough to never need to fight again.